On Thursday, July 7th and Friday, July 8th, celebrities will come together to participate in two star-studded events to raise funds for The Alex Thomas Foundation. Sponsored in part by Lexus and Nike, the festivities will be held at the Pacific Palms Resort located at 1 Industry Hills Parkway, City of Industry, CA. Funds raised from the events will benefit the Pediatric Cancer Patients and Research.
On Thursday, an All-Star comedy lineup featuring Speedy, Buddy Lewis, Dannon Greene, and Rodney Perry will perform in the Majestic Ballroom at the Pacific Palms Resort. The show begins at 8:00pm and will be hosted by Alex Thomas.
Closing out the two-day event on Friday will be, the second annual Alex Thomas Celebrity Classic which will take place on the grounds of the Pacific Palms Resort at Industry Hills Golf Course. Registration begins at 9:00am with tee-off beginning at 10:00am.
Immediately following the tournament will be an awards banquet. Invited and scheduled to participate in this year's Classic is an array of talent including Anthony Anderson (Law and Order), Chris Paul (New Orleans Hornets), 2011 NBA Champions Dallas Mavericks, Jason Terry and Jason Kidd, LaDainian Tomlinson, (New York Jets), Marshall Faulk (NFL Great/NFL Network) Rick Barry (NBA Great), Marcellus Wiley (ESPN Commentator), Byron Scott (Cleveland Cavaliers Head coach), Royce Clayton (former MLB player), Joe Torry (Actor), Chris Spencer (Actor/Comedian/Host), Tracy Evan (3x Olympic Freestyle Skier), (Actor/Comedian), Derek Fisher (Los Angeles Lakers), Vince Young (Tennessee Titans), Leigh Bodden (New England Patriots), Vanessa Bell Calloway (Hawthorne), Lester Speight (Transformers 3: Dark of the Moon/Faster), TJ Murdock (3x USBC Champion Bowler), Duane Martin (Actor), Madison Chase (3x ESPN2 Women's Fitness Champion) among many others.
Alex Thomas Classic
Tickets are on sale now for the two-day event and are $150 per person, $300 for twosome and $500 for a foursome. The fee includes the Comedy Show and Golf Classic (driving range, golf cart, lunch, awards banquet and goodie bag). Formore information about The Alex Thomas Foundation, Celebrity Classic or Comedy Show, contact Jeff Taylor at (310) 349-9557 or via email at [email protected]
For talent submission, press credentials or a complete list of participants, contact LaShirl Smith at (213) 925-3663 or via email at [email protected]
About Alex Thomas:
Alex Thomas is one of the hottest comedians who hails from Los Angeles, California and has been performing stand-up for over past 20 years. He has performed with the likes of Jamie Foxx, Sinbad, Damon Wayans and Bill Cosby to name a few. He has also starred in two network comedy specials, "Straight Clowin" for Showtime and "Alex Thomas Live" for BET.
If comedy wasn't enough for Thomas, he has also honed his craft as an actor as well. He has appeared on TV on such hit shows as "The Jamie Foxx Show," "Martin," "Girlfriends," and "The Parkers" to name a few. His film credits include, "The Player's Club," "Two Can Play That Game," "B.A.P.S.", and "Just Married." Thomas recently established The Alex Thomas Foundation to benefit the Pediatric Cancer Patients and Research. The goal of the foundation is to promote awareness and provide support to families in need, whose children have been diagnosed with cancer and are undergoing treatment. Support from The Alex Thomas Foundation includes the following areas:
1) The Burzynski Clinic in Houston Texas
2) City of Hope Research Hospital
Meet Noah Stout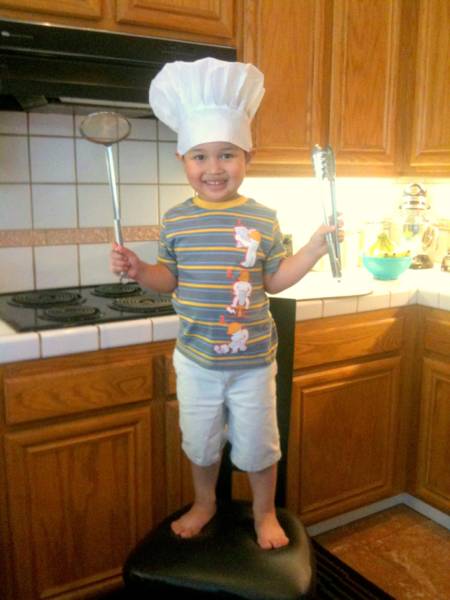 Noah Stout was diagnosed with Diffuse Intrinsic Pontine Glioma on December 27, 2010 at Lucille Packard Children's Hospital (Stanford) in Palo Alto, California. Noah is a sweet and loving little four year old boy who was playing at home when suddenly he fell
and was unable to stand up. His parent's rushed him to Regional Hospital where the ER doctors decided to do a CT and MRI to ensure he had no major head injuries.
To everyone's surprise, they found a tumor and rushed Noah in an ambulance to Stanford Children's Hospital. The Stanford Neuro Oncologists reviewed his MRI where he was diagnosed with Diffuse Intrinsic Pontine Glioma (DIPG). Since receiving the diagnosis, the Stouts have endured an emotional roller coaster, including consultations with three hospitals in search of treatment options. Unwilling to rely on radiation and/or chemotherapy that at best could prolong Noah's life, the Stouts have placed their hopes on an experimental drug they hope will save him.
The Stouts have turned to Houston doctor Stanislaw R. Burzynski, who has reportedly cured other young cancer patients diagnosed with Diffuse Intrinsic Pontine Glioma, also known as DIPG, the same type of rare, lethal tumor that is attacking Noah. The Alex Thomas Foundation is dedicated to supporting families who may need financial, emotional, as well as inspirational support as they seek treatment and a cure for their child's illness.
Join the Alex Thomas Foundation as we join the fight with the Stout family and others against pediatric cancer.
Tournament info:
Alex Thomas Foundation
Jeff Taylor
(310) 349-9557
[email protected]
source:
L Group PR
LaShirl Smith
(213) 925-3663
[email protected]