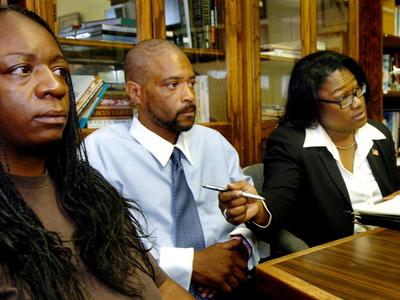 *Pasadena, Calif. – Caree Harper, the attorney for the family of the 19-year-old Citrus college student Kendrec McDade who was who was recently shot and killed by two white Pasadena police officers, says that besides dealing with the grief of the losing their son, they must now raise $10,000 by Sat., April 7th to bury their son, with half of that amount being due by Wed., April 4th.
(Are you a fan of EURweb? Like us on Facebook or Follow us on Twitter.)
Kendrec McDade, also known as the Trayvon Martin of the Los Angeles, was fatally shot by Pasadena police on March 24th, after a man called 911 to report he had been robbed by a pair of gunmen. The two officers who arrived on the scene believed that McDade was reaching for a gun and opened fire killing him. No weapon was found on McDade.
Oscar Carillo, the 911 caller whose backpack had been stolen from him, later admitted he lied about the guns in order to get a more urgent police response. He has since been arrested for lying to the police.
However, while questions and accusations fly about the death of McDade, his can't move forward until they bury their son. In addition to their rising legal fees as they move forward in the pursuit of justice, McDade's death is unexpected expense that requires them to ask for public help.
A memorial fund has been started at Chase Bank in the name of Kendrec McDade to help pay for the young student's burial.
Chase Bank
Kenneth McDade and Anya Slaughter
Kendrec McDade Memorial Fund
Account No. 452408953
Routing No. 322271627
How to Donate
Go to any Chase Bank and donate to the Kendrec McDade Memorial Fund
(Account # 452408953)
Go to your own bank and ask to transfer an amount to the Kendrec McDade Memorial Fund
(Account # 452408953) at Chase Bank using the routing #322271627
---
Got A News Tip or Video You Want to Share? Contact us HERE.
---
Recent Posts