*Despite Zoe Saldana's reported involvement in a film about Nina Simone, she will not be included in an upcoming documentary on the revered jazz singer.
According to Variety.com, Netflix has signed a deal with RadicalMedia to produce "What Happened, Miss Simone?," an original film showcasing Simone through her own diary entries, letters and concert videos. The site goes on to mention that the late entertainer's estate will allow the documentary will draw on more than 100 hours of recordings, excerpts of interviews with the singer's daughter and friends to let Simone tell her own story.
Regarding "What Happened, Miss Simone?," Netflix mentioned the film would take an "unflinching" look at the life of Simone, a classically trained pianist and vocalist. In addition to Saldana, the film will not include black face.
If you're lost on the Saldana and black face reference, here's the deal:
Saldana, who plays Simone in a biopic filmed in 2013, had her skin darkened for the role, and used a prosthetic nose, as well as what looks like fake teeth to push her lips out and make them bigger. The makeover has been controversial since the casting choice was announced, but a photo  released earlier this year gave a more high resolution reason to amount it to blackface: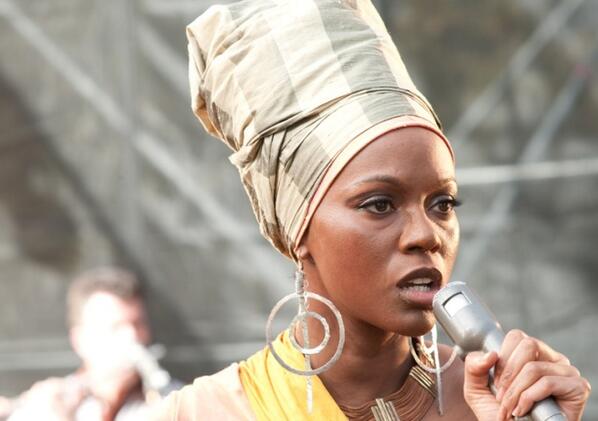 Born in Tryon, North Carolina, Simone was known for delivering an unflinching message about the struggle of blacks and the need for civil rights in the '60s through her music. Her most famous tunes include "Mississippi Goddam" a song created after the bombing of an Alabama church and the murders of four little black girls. Other Simone recordings were "High Priestess of Soul" and "I Put A Spell on You" as well as "Ain't Got No, I Got Life" from the Broadway musical "Hair."
"What Happened, Miss Simone?" is set to be released everywhere Netflix is available in 2015.