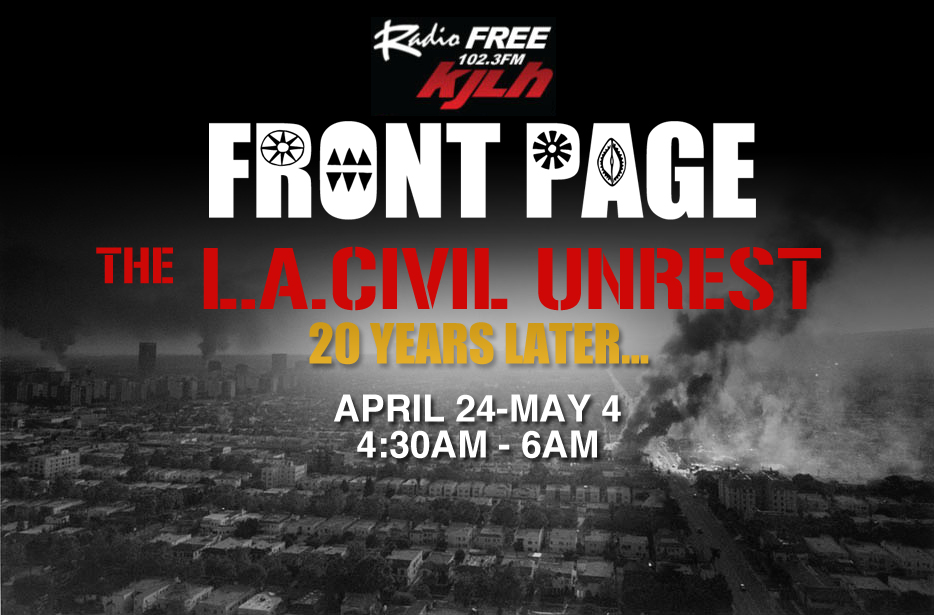 20 YEARS LATER: Korean and Black Relations Post Latasha Harlins and the 1992 Civil Unrest
Korean-American comedian David So's "Korean Beauty Supply"
Continuing its coverage and commemoration of the 1992 civil unrest, in an unprecedented conversation, former Los Angels City Councilmember Mike Woo and Korean American Business Association President Jong Min Kang will discuss the state of Asian and Black relations post Latasha Harlins and the 1992 Civil Unrest on Thursday, April 26 on KJLH-FM's Front Page show from 4:30AM to 6AM.
Kang, was President of the Korean Militia in 1992 responsible for supplying local Korean business owners with guns to protect their businesses during the six day civil unrest that saw many Korean owned liquor stores, beauty supplies, and other businesses vandalized and burned down.  Today, among his other roles in the Korean-American community, Kang is President of the Slauson Swapmeet Merchants Association.  A controversial South Los Angeles icon, the Slauson Swapmeet was protected by the National Guard during the 1992 civil unrest.
Of Chinese descent, Woo was the first—and so far the only—Asian American on the Los Angeles City Council, from 1985 to 1993, being elected in Los Angeles City Council District 13.
Twenty years ago, Woo, was the City Council leader in a fight to oust Police Chief Daryl Gates in the wake of the beating of Rodney G. King by police officers.
Woo left his council seat in 1993 to run for mayor that year against Richard Riordan, who won in a victory marked by "deep racial divisions."In the wake of the 1992 Los Angeles riots, Woo and Bill Clinton, who was running for President, endorsed one another's candidacies. Riordan garnered 54 percent of votes to Woo's 46 percent.
Hosted by Dominique DiPrima, the Front Page is Los Angeles' only daily talk radio show focused on African-American issues. The show can be heard on air in Los Angeles from 4:30AM until 6AM at 102.3 FM, online at www.kjlhradio.com, and downloaded later on iTunes after the broadcast. This show is produced by veteran radio news journalist and producer Jasmyne Cannick.
BACKGROUND
Latasha Harlins
Latasha Harlins
was a 15 year-old African-American girl who was shot and killed on March 16, 1991 by Soon Ja Du, a 51 year-old Korean store owner. Harlins was a student at Westchester High School in Los Angeles, California. Because Harlins' death came just thirteen days after the videotaped beating of Rodney King and Du was imposed with a probation, a fine and community service for her action, some sources cited the shooting as one of the causes of the 1992 Los Angeles riots.
Korean-American Community and Black During the 1992 Civil Unrest
The Korean-American community in Los Angeles refers to the event as "Sa-I-Gu" (literally "4-2-9″, in reference to the April 29, the first day the riots broke out). The riots prompted various responses from the Korean-American community, including the formation of activist organizations such as the Association of Korean-American Victims, and increased efforts to build collaborative links with other ethnic groups.
During the riots, many Koreans from throughout the area rushed to Koreatown, after Korean-language radio stations called for volunteers to guard against rioters. Many were armed, with a variety of improvised weapons, shotguns, and semi-automatic rifles.
According to Edward Park, the 1992 violence stimulated a new wave of political activism among Korean Americans, but it also split them into two main camps. The liberals sought to unite with other minorities in Los Angeles to fight against racial oppression and scapegoating. The conservatives emphasized law and order and generally favored the economic and social policies of the Republican Party. The conservatives tended to emphasize the political differences between Koreans and other minorities, specifically blacks and Hispanics.
One of the most iconic and controversial television images of the violence was a scene of two Korean merchants firing pistols repeatedly at roving looters. The New York Times said, "that the image seemed to speak of race war, and of vigilantes taking the law into their own hands. I want to make it clear that we didn't open fire first," said David Joo, manager of the gun shop. "At that time, four police cars were there. Somebody started to shoot at us. The L.A.P.D. ran away in half a second. I never saw such a fast escape. I was pretty disappointed."
Defending the armed response of the Koreans, Mr. Rhyu said, "If it was your own business and your own property, would you be willing to trust it to someone else? We are glad the National Guard is here. They're good backup. But when our shops were burning we called the police every five minutes; no response."
Jay Rhee estimated that he and others fired 500 shots into the ground and air. "We have lost our faith in the police," he said. "Where were you when we needed you?" One of the largest armed camps in Koreatown was at the California Market. On the first night after the verdicts were returned in the trial of the four officers charged in the beating of Rodney King, Richard Rhee, the market owner, posted himself in the parking lot with about 20 armed employees.
One year after the riots fewer than one in four damaged or destroyed businesses reopened, according to the survey conducted by the Korean American Inter-Agency Council. According to a Los Angeles Times survey conducted eleven months after the riots, almost 40% of Korean Americans said they were thinking of leaving Los Angeles. Before a verdict was issued in the new 1993 Rodney King Federal civil rights trial against the four officers, Korean shop owners prepared for the worst as fear ran throughout the city, gun sales went up, virtually all of them by those of Korean descent, some merchants at flea markets removed their merchandise from their shelves, storefronts were fortified with extra Plexiglas and bars. Throughout the community, shop owners readied to defend themselves as if on the eve of a war.
"Like many others, Miss Hwang's family is armed now with a Glock 17 pistol, a Beretta and a shotgun and they plan to barricade themselves in their store to fight off looters." "[T]he Korea Young Adult Team of Los Angeles, bought five AK-47 rifles." "We made a mistake last year," said Yong Kim, the group's leader. "This time we won't. I don't know why Koreans are always a special target for African Americans, but if they are going to attack our community then we are going to pay them back."
violence, profanity, racism, street gangs, drive-bys, vandalism, thievery, drug dealing, alcohol abuse, substance abuse and materialism.
About KJLH-FM
Owned by Stevie Wonder's Taxi Productions, KJLH is the leading broadcast radio station for African-Americans and urban consumers in Southern California. The Los Angeles home for the Steve Harvey Morning Show, KJLH's award-winning Front Page show with Dominique DiPrima is Los Angeles' only talk radio show focused on African-American issues.
www.kjlhradio.com
www.facebook.com/radiofreekjlh
www.facebook.com/frontpageshow
http://itunes.apple.com/us/podcast/dominique-diprima/id369924210
@RadioFreeKJLH
#RadioFree